my background
Career
Section Head Game Design
Project management on user interface  design, program development, graphics, and content localization
Coordinate with licensor to get approval for the game content and software
---
Project Manager
Web Advertising Analysis : Setup and using Google Analytic, Double Click Dart, Omniture to analyze the web traffic and banner advertising for online marketing for magazine
e-Marketing: manage membership database, data mining and email promotion
Web project management for their customers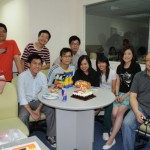 ---
Euro RSCG
Technical consultant
web technical consultant for customer
---
Senior Game Designer
Game Play design of a electronic learning toys
Work with mainland production team and animations house.
Projects: WhizKids Learning System (A writing board connectable to PC) – Title developed:  Scooby Doo and the Lost Island
---
BBMF Nanjing
Project Manager
Setup and the mobile game production line in Nanjing
Evaluate resources and schedule and work out the price for the client.
---
Sony Corporation of Hong Kong Limited
Application Business Manager  & Webmaster
Develop strategies and formulate business plans for application business and effectively manage related parties to achieve business targets
Lead and manage the team in planning, implementing, marketing and sales of application business
Advise and propose to management the best content development, system and network strategies
Development and localization of ISP project: So-net
Web Site setup: liaise with different product managers, define promotion campaign and area.
Customer Services and billing System: help to define customer service procedure, product package, billing system.
Project Handled (Initiate, P&L, Content and Interface Desgin, Development Management)
---
Cable & Wireless Schoolteam (Asia) Ltd
Webmaster
Responsible for the development and editorial of online project:
 ST2000 (www.schoolteam.net): A centralized platform for school with email, notice broad, calendar, file cabinet.
 STChannels (www.stchannels.net): An education resource center for students, parent and teachers.
---
The Unversity of Hong Kong
Internet Consultant
online class admin and web technology consultancy
---
Hong Kong Supernet
Webmaster
Design, develop and maintenance the new version of corporate home page.  Introduce the concept of portal, with a web directory and articles. Co-ordinate freelance writers and write content myself.
online production and marketing  consultant for customer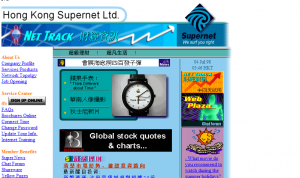 ---
Hong Kong Star Internet
Project Manager
As one of the pioneers of local Internet Service Providers, we defined the Internet content, user interface, web design business practice instead of being  a follower.
Remarkable Projects:
Hong Kong Star  (http://www.hkstar.com)
StarZine (http://www.starzine.com) an online magazine of Hong Kong Star.
Writing articles, contacting freelance writer, composing web page as well as the artwork, CGI and script programming, co-ordinate job with programmers, graphic designers and marketing executives, project planning for the StarZine.
Initiate, plan and develop first local horse racing web site (inside StarZine)
– include odds, tips, forum (define and develop)
Initiate, plan and develop net friends application (inside StarZine)
– include matching, forum, anonymous letters
Plan and Develop Stock Quote Snap Shot web site (Asian Update – SHK Stock Quote)
– include daily stock quote, articles, forum
Initiate, plan and develop online Advising System
            – develop form Banner Ad. System. Include, banner ad. rotation, Report and define charging models
Online Business Consultant
Consult web design customers, design web design product package.
Others
Co-ordinate freelance and write articles Movies, Comic, TV, Movie Channels (StarZine)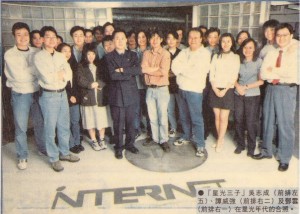 ---
 RTHK
Programme host : 電腦山莊 & 一台e科net